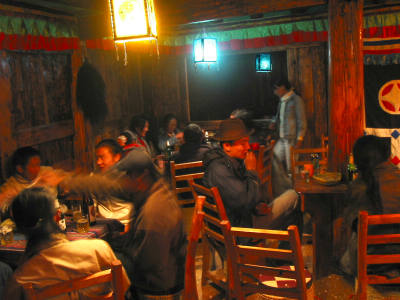 Note: Due to a confluence of reasons, the Treehouse Bar/Cafe CLOSED in the spring of 2006. We may reopen in a different form in the future, and we would like to thank everyone that patronized our establishment.

位于世人向往的香格里拉(亦称中甸)古城,树房子酒吧会为您提供一个舒适的环境、最优质的服务。您可以在这里体验到真正的香格里拉,我相信这里的一切会让您陶醉,也相信您也会像我一样,来自遥远的美国却一辈子留在了这美丽的仙境......
Located in the historic Shangri-La (a.k.a. Zhongdian) old town, the Treehouse Café/Bar offers a pleasant and cozy place to sit, relax, and enjoy your time in Shangrila.
"The laid-back Treehouse is an ideal place to sip tea and snack on sunflower seeds while warming your toes beside a wood fire." -- Time Magazine Global Advisor, May 9 2005.